The Best Kids Entertainment
Kids Entertainment Specialists For More Than 20 Years
As featured on RTÉ KIDS and RTÉjr, PartyKidz Productions are over two decades creating smiles with all kinds of Kids Entertainment and Exciting Shows for Kids Parties and Family Fun Events! For us, we are passionate about making each and every child feel uniquely special and thoroughly entertained.
Whether it's a Kids Party, Christening, Communion, Wedding or Fun Day Event, our experience and professionalism will ensure everything runs smoothly and is jam-packed with exciting activities creating very special memories for the kids…. as well as the 'Big-kids'!
We offer an imaginative variety of fun games, interactive activities and exciting shows for children and adults, bringing innovative kids party entertainment to any home or venue in Dublin, Kildare, Wicklow and Meath.
Hear From Our Happy Customers
Thanks for helping make India's day fab! From the first minute Michelle started to the last second of the 2 hours all 15 kids were up and were glued to her. The energy and variety of games and entertainment Michelle brought kept the kids of all ages so involved it was so noticeable and commented by the other parents on how great she was with them.
Niall, Elaine and India
The Ward, Co. Dublin
We used PartyKidz for our DHL Family Fun Day to keep all the youngsters entertained and we were delighted with the result! Claire was fantastic and managed to keep the group of children with mixed ages hooked on her every word the whole time and they all had a ball. Thanks!
Ciara Hynes
DHL Express Ireland Ltd
We have used Partykidz.ie as our chosen entertainers for our annual Santa party attended by over 100 children at Grange Golf Club for the last five years. Without fail, the entertainers have been professional, well equipped, resourceful and full of ideas to keep the children and adults entertained for the duration of the event. Nothing has ever been too much for them and they have always dealt with the children in a friendly and fun way. I have no hesitation in recommending this organisation for any event of this type.
John Taylor
Grange Golf Club, Rathfarnham, Dublin 14.
I would just like to let you know that we had a wonderful event last Wednesday and both Claire and Rosie were a wonderful addition to the event. All of the children went home exhausted but very happy! Thank you once again for your help and I hope you have a wonderful Christmas.
Lucy Heaney
GE Capital Aviation Services Ballsbridge
We used PartyKidz for our event 'The Coimin Greenway 5k and Family Fun day' and would highly recommend them! Amazing hassle free fun, all the kids really enjoyed themselves and there was plenty of fun and activities to keep the kids happy across a wide range of ages.
David Gilmore
Blessington AFC Family Fun Day
Everything went amazing, Becky was brilliant with the kids. They all loved her. Booked last min for my little girls' communion and nothing was a problem. The kids were entertained for the whole 1.5hr. Would highly recommend!
Emeline Kenny
Mount Merrion, Co. Dublin
I just want to say thanks so much to the three girls on Friday, they were absolutely brilliant. The kids really loved all the balloons they made and the face painting. We weren't really sure how things would work out as it's the first time we have had a Christmas Event like this for the kids but the girls just went with the flow and used their own initiative and moved around when necessary.
Catherine Gavin
Bank of Ireland Upper Baggot St, Dublin 2
The party went very well thank you. Becky was so good with all the kids, she had something for all ages and even managed to get Cian's older sister and cousins involved! She was so energetic with the kids and reeled them all in. They were all exhausted going home. Everyone was so impressed…definitely well worth it. Thank you so much for making our communion extra special! Thanks again and a big thank you to Becky.
Yvonne Walsh
Goatstown
Just want to say thank you for Saturday and a huge big thank you for Mickeala, she did a great job!
Tracey Shanks
Drimnagh
We had a our daughter's first Communinon on Sunday and Claire did the the entertainment from Partykidz.ie, she was absolutely brilliant and the kids had a great time, Thanks a lot and would recommend Partykidz, Very professional and great at what they do.
Ronan Holland
Maynooth
We used Partykidz for my 7 yr old's birthday party. My daughter had an amazing time. The entertainers were brilliant. They were full of energy, full of enthusiasm and had a fantastic rapport with the kids. There were an array of activities and all of the kids had a ball. I found Michelle and Partykidz very friendly, extremely professional, flexible and massively accommodating when our venue had to be switched at the last minute. All in all a great experience. I'd highly recommend Partykidz as a party option.
Sarah Henriques
Clontarf
Thanks so much, Hannah had a great time yesterday. Rosie was brilliant with the kids, they all had a ball Brilliant games, disco and face painting. I would highly recommend PartyKidz.
Karen Hayes
Dunboyne
Listen To Our Kids Podcast!...
The Kids Are All Right! is a new RTÉjr Radio series for kids that's all about Health, Happiness and Wellness. Michelle and her puppet co-presenters, Buster & Buddy, are on a mission to help kids Feel Great and Live Happy!
They speak with experts who've the best advice and tons of experience to share to help kids deal with life's challenges, as well as hearing directly from kids from all over Ireland on the topic of the day in their Kids Squad Panel!
Covering everything from how to get to sleep easier to being the boss of their worries…from the importance of eating healthy and exercise to building their resilience to help them deal with the hard things in life, to bullying; basically Anything and Everything that affects kids' sense of happiness and wellness.
AVAILABLE AS A PODCAST BY SEARCHING 'THE KIDS ARE ALL RIGHT RTE' WHEREVER YOU GET YOUR PODCASTS.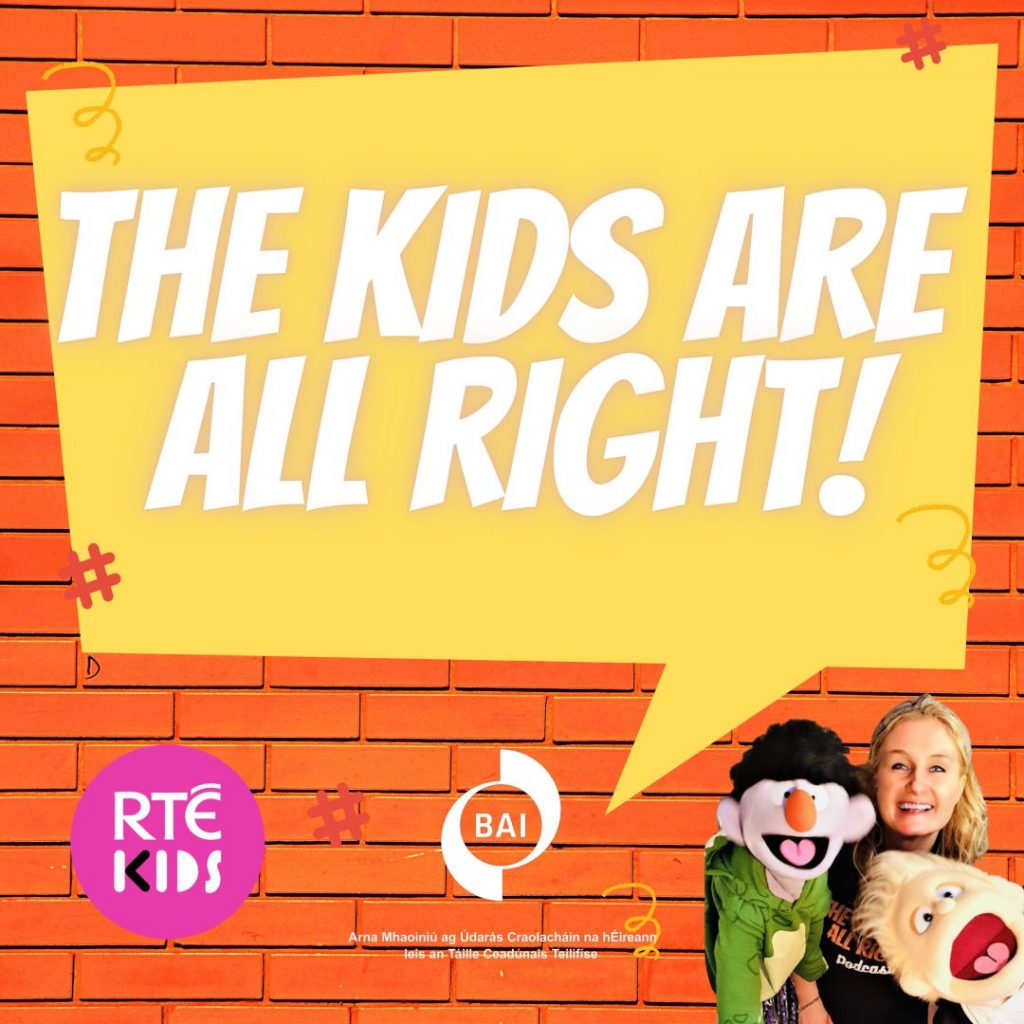 a little bit about us...
How the magic started!
Over two decades ago now (wow, time flies!) Michelle started out as a kids dance teacher and soon after set up Party Kidz Productions, a one-stop kids' party entertainment and events agency. Her passion for bringing out the very best in every child and making them feel really special has always been at the heart of the business. During that time Michelle also worked in corporate entertainment providing acts as varied as themed cabarets, bands and choreographed dance acts… not to mention her experience working in the television sector as a Producer and Production Manager on a large variety of RTÉ, Virgin Media/TV3 and TG4 shows. It is this experience and professionalism that will ensure that whether it's a birthday party for 15 or a family fun event for hundreds…. parents and kids alike will have a thoroughly entertaining time and create really special memories for years to come!
We've brought magic & laughter to hundreds of clients including: