Interactive Character Actors
Let our Professionally Trained Actors 'Create a Scene' at your Event!
Our exciting Interactive Character Actors entertain and mingle with the parents and kids at your event, giving lots of fun photo opportunities…. as well as providing plenty of mad cap antics guaranteed to bring a smile to everyone's faces! Our professional actors perform in quality costumes and are bursting with personality!
If you have another character or theme in mind… Just Ask!
Cops N' Robbers
One of Ireland's most sought after jewellery thief's is in the vicinity of your event…What will you do? Who should you call?!
Well no need to fear…the SWAT team has arrived!!
But can the SWAT team leader catch this dodgy villain as he races through your event trying to evade capture?! Using his SWAG bag of treats, he attempts to 'bribe' the children to hide him from the law enforcement officer who is close on his tail!
A Hilarious, mad-cap, old-style cops n' robbers chase will ensue… guaranteed to amuse the kids and parents alike!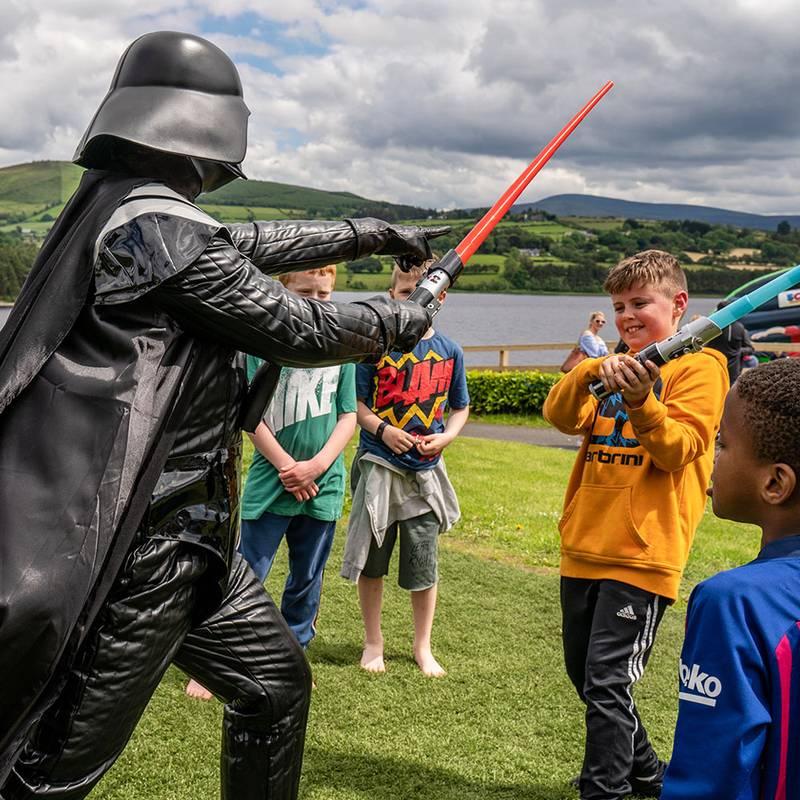 Jedi Knights
The most iconic Star Wars characters, Darth Vader and Obi Wan Kenobi recreate the fight of Good V's the Dark Side with an action packed light saber fight. Joined from the Good Side by warrior Rey from The Force Awakens, she is a fierce Jedi with strong powers of the Force!
These iconic characters walk around your event, interacting with the kids and teaching them some key Jedi Knight light saber moves. May the Force be With You! Fantastic memorable photo opportunities for the kids and families at your event.
Pirates Ahoy!
Interactive Walkabout Pirate Characters cause hilarious mayhem at your event! The Pirates mingle and create fun interactions with the parents and kids as they search for their Treasure which hidden somewhere in your event!
These uproarious, troublesome pirate characters are guaranteed to create pirate mischief wherever they go!
You can also bring PIRATE SCHOOL to your event.
Kids learn the Pirate Salute & the all-important Pirate Code. Get taught to speak like a Pirate from a Real-Pirate! Ah Har
me Hearties!
Pirate Face Painting and Balloon Modelled Pirate Swords.
Then learn some key Pirate Sword Fighting moves and spar against the Pirates themselves…. but be careful… lose and
you'll have to Walk the Plank…!
Paparazzi
Have you ever wondered what it would be like to be famous, with press photographers going crazy trying to get your photo?! Our comedic and charming Hollywood-style fake Paparazzi Characters move around your event as roving reporters, interacting with the parents and kids in a fun way, bringing laughter and excitement as they try and get that all important photo…….even though they sometimes mix up Who's-Who – guests might just get mistaken for their favourite A – List celebrity!
Santa / Christmas Events
Tis the Season to be Jolly…! Let our Santa Claus, Mrs Claus and team of North Pole Santa's Helpers bring the Season of Ho-Ho-Ho to your event. We can tailor a package that works best for you…. depending on your preferred characters, selection of activities, budget and of course the scale of your event.
Santa Claus: The Big Man who needs no introduction!
Mrs Claus: Let Mrs Claus keep the kids entertained while they wait to see her busy husband….as she mingles for chats with the kids, relates some snowy stories and tests them on some festive riddles ….while happily posing for those all-important photos!
Santa's Helpers: These festive little helpers are there to look after Santa, while keeping the festive spirit bright with
Christmas Face Painting and/or Balloon Modelling.
And as long as they've had their daily mug of Hot Chocolate, they are always happy to pose for photos with the kids. Hic!
Hear From Our Happy Customers
We used PartyKidz for our DHL Family Fun Day to keep all the youngsters entertained and we were delighted with the result! Claire was fantastic and managed to keep the group of children with mixed ages hooked on her every word the whole time and they all had a ball. Thanks!
Ciara Hynes
DHL Express Ireland Ltd
We have used Partykidz.ie as our chosen entertainers for our annual Santa party attended by over 100 children at Grange Golf Club for the last five years. Without fail, the entertainers have been professional, well equipped, resourceful and full of ideas to keep the children and adults entertained for the duration of the event. Nothing has ever been too much for them and they have always dealt with the children in a friendly and fun way. I have no hesitation in recommending this organisation for any event of this type.
John Taylor
Grange Golf Club, Rathfarnham, Dublin 14.
I would just like to let you know that we had a wonderful event last Wednesday and both Claire and Rosie were a wonderful addition to the event. All of the children went home exhausted but very happy! Thank you once again for your help and I hope you have a wonderful Christmas.
Lucy Heaney
GE Capital Aviation Services Ballsbridge
We used PartyKidz for our event 'The Coimin Greenway 5k and Family Fun day' and would highly recommend them! Amazing hassle free fun, all the kids really enjoyed themselves and there was plenty of fun and activities to keep the kids happy across a wide range of ages.
David Gilmore
Blessington AFC Family Fun Day
I just want to say thanks so much to the three girls on Friday, they were absolutely brilliant. The kids really loved all the balloons they made and the face painting. We weren't really sure how things would work out as it's the first time we have had a Christmas Event like this for the kids but the girls just went with the flow and used their own initiative and moved around when necessary.
Catherine Gavin
Bank of Ireland Upper Baggot St, Dublin 2
We've brought magic & laughter to hundreds of clients including: