With two decades of experience, this is Our Party Speciality!
We arrive at your house or venue with a HUGE selection of activities and then play it by ear, 'pick n' mixing' the best selection of games and activities that best suit your party of kids…and their energy levels on the day! ….AND we pack in as many as possible to keep your party animals busy!
Of course, no one knows your child better than you, so you are welcome to request some of their favourites to be included. We bring everything needed for these activities, along with the music, microphone and super Disco Lights to ensure the party is really upbeat and interactive!
Dancing and Kids Disco:
And WE ARE THE DISCO EXPERTS! Our experienced dance instructors will have the kids…and many times even the parents…. up on their feet as we teach them the coolest Pop-tastic and Tik Tok dance moves and play the best Disco Games using their favourite Pop hits!
Limbo Competition:
One of our most popular party games - the kids just love playing our 'How-Low-Can-You- Go' game!
Kids Party Games:
Pass the parcel, Disco Musical Bumps, Horse and Jockey, Disco Musical Statues, Snatch the Bacon, Musical Hoops, Do This-Do That, Balloon Races, The Over the Head Game, Land-Sea- Shore, Football Relay Races, …to name but a few!
Super Parachute Games:
We have a HUGE variety of team building Parachute games to suit all ages from the youngest all the way up to the older kids, involving the whole group in fun, cooperative play.
Target Games/ Football Competition:
Great group games which work particularly well with mixed ages. These are tailored for either indoor (scaled down) or outdoor space (scaled up!)
Pop Quiz:
The kids in each team choose their own 'Popstar' team name and must work together to answer pop trivia questions against the
clock!
Wacky Races:
A firm favourite as the kids' relay race in teams as they go through, under, around or over (Phew!)…all kinds of wacky & fun obstacles and props.
Emoji Crazy Bingo!:
Get set for some crazy Bingo fun as each kid has their Emoji Bingo Card at the ready to see who will get the first line, with lots of fun and games thrown in for good measure!
Tug of War!
We have brought back this firm favourite activity as the kids split into teams to see which team is the strongest! And don't be surprised in lots of the adults join in too!
Art Make 'n' Do
Bookmarkers and Bedroom Signs: The kids personalise their very own bookmarker or bedroom sign, by choosing and creating from a selection of multi-coloured stick-on foam shapes, characters & letters!

Beaded Wristbands / Keyrings: With hundreds of beads to choose from the kids will love making their very own beaded wristbands or keyrings for their schoolbags or maybe even for their parents keys!

Prince & Princess Crowns: The kids get to make cool Prince and Princess Crowns and Tiaras with coloured card, sparkly jewels and foam stickers!
Rainbow Designs & Transfer Tattoos:
Rainbow designs with gems and traditional Transfer Tattoos…from dinosaurs and football, to unicorns and Emojis.

**OPTIONAL: Add our Awesome Glitter Tattoos! *The latest cool-craze! (Extra €10. Please note additional time must be allowed for this activity.)
Hair Chalk:
Or how about our cool temporary Hair Chalk! The kids select from all the colours of the rainbow and transform their hair with strips of fun colour! (And don't worry, as the name suggests, these chalks wash out very simply!)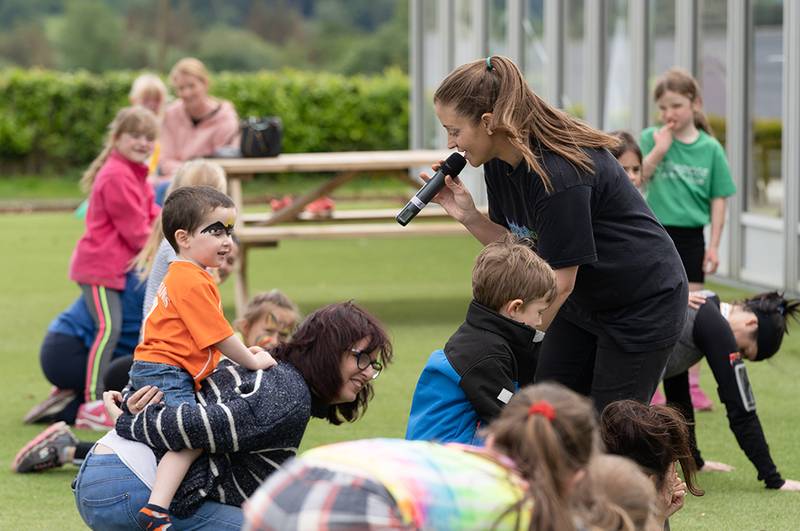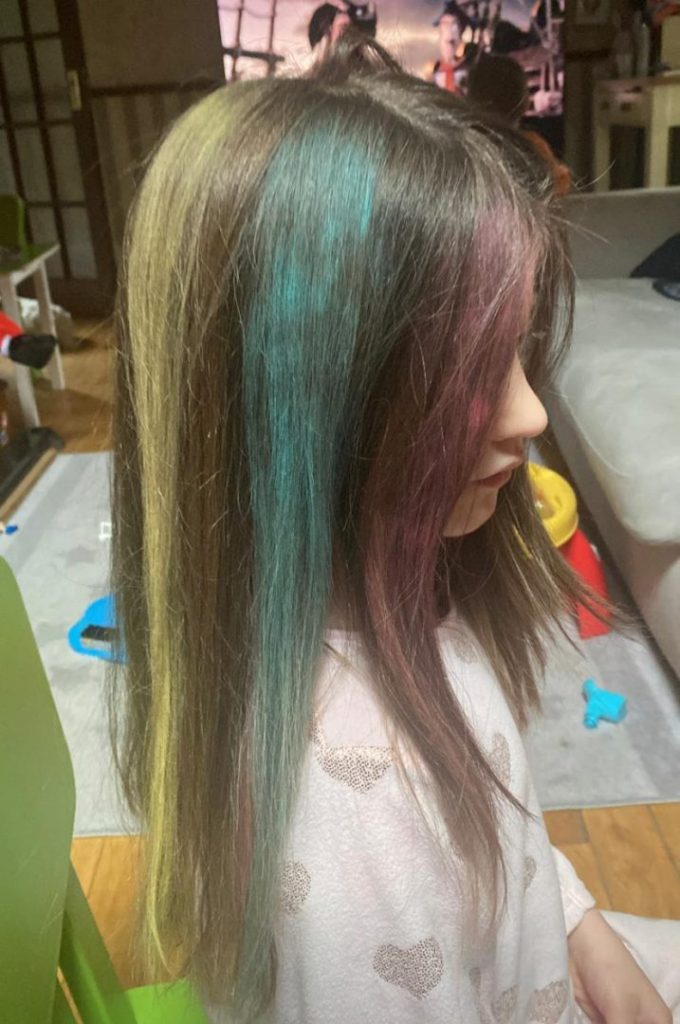 Hear From Our Happy Customers
Thanks for helping make India's day fab! From the first minute Michelle started to the last second of the 2 hours all 15 kids were up and were glued to her. The energy and variety of games and entertainment Michelle brought kept the kids of all ages so involved it was so noticeable and commented by the other parents on how great she was with them.
Niall, Elaine and India
The Ward, Co. Dublin
Everything went amazing, Becky was brilliant with the kids. They all loved her. Booked last min for my little girls' communion and nothing was a problem. The kids were entertained for the whole 1.5hr. Would highly recommend!
Emeline Kenny
Mount Merrion, Co. Dublin
The party went very well thank you. Becky was so good with all the kids, she had something for all ages and even managed to get Cian's older sister and cousins involved! She was so energetic with the kids and reeled them all in. They were all exhausted going home. Everyone was so impressed…definitely well worth it. Thank you so much for making our communion extra special! Thanks again and a big thank you to Becky.
Yvonne Walsh
Goatstown
Just want to say thank you for Saturday and a huge big thank you for Mickeala, she did a great job!
Tracey Shanks
Drimnagh
We had a our daughter's first Communinon on Sunday and Claire did the the entertainment from Partykidz.ie, she was absolutely brilliant and the kids had a great time, Thanks a lot and would recommend Partykidz, Very professional and great at what they do.
Ronan Holland
Maynooth
We used Partykidz for my 7 yr old's birthday party. My daughter had an amazing time. The entertainers were brilliant. They were full of energy, full of enthusiasm and had a fantastic rapport with the kids. There were an array of activities and all of the kids had a ball. I found Michelle and Partykidz very friendly, extremely professional, flexible and massively accommodating when our venue had to be switched at the last minute. All in all a great experience. I'd highly recommend Partykidz as a party option.
Sarah Henriques
Clontarf
Thanks so much, Hannah had a great time yesterday. Rosie was brilliant with the kids, they all had a ball Brilliant games, disco and face painting. I would highly recommend PartyKidz.
Karen Hayes
Dunboyne